Wade would debut as a Heel protégé of Y2J in October 2010 and would attempt to win the HCW World title but would fail. In December Y2J would abandon Wade after multiple Failures to capture gold. Wade would then get inducted into the Nex-Us as the assistant to Jim Logan and would even be in charge for a night when Jim was in(kayfabe) jail. After the Nex-Us dissbanded Wade would still use the Nexus music and attire and would attempt to win the HCW World title but would fail. He was later traded to HCW Inferno for Samon Joe and is currently in a feud with Mr. Anderson
Joining the Nexus, Smackdown, IC Champion, Feud with Ezekial Jackson and Hiatus
Edit
In Late March Wade would be inducted into the New Nex-Us as its manager. CM Punk would later make him leader during his absense. After the deformation of the Nexus, Wade would attack The Big Show and start a feud with Ezekiel Jackson over the Intercontinental Championship. Their feud would end after a "Last Chance Match" Dark match before The War of Wars PPV. He hasnt made an apperance yet.
Barrett would return in October, claiming he would start "The Great Barrett Uprising" in reality, only going into singles competiton. In the start of his "Uprising" he would defeat former Nexus follower, Daniel Bryan in a singles match, then would follow in defeating Sin Cara  Barrett would then go onto defeat tag team champions Air Boom alongside Cody Rhodes. At Survivor Series, Barrett would fight to a draw against Bryan, fighting to a draw as Bryan would lock in the LeBelle lock on Barrett on the outside. After Survivor Series, Barrett would be put into a feud with Randy Orton, trading wins and losses with each other, agreet to meet at TLC 2011 in a Chairs Match. After his feud ended with Orton, Barrett would show signs of a face turn saving Goku from an attack from Chavo Guerrero and Primo. He would turn face the following TNA, after losing to Goku, would shake hands with him. The following night on Smackdown, Barett agreed to make a tag team with Goku. Calling themselves The Corre. At the Rumble he and Jacob would win the Undisputed WWE Tag Team Championships from Primo and Epico. At WrestleMania, Barrett and Cass lost the titles when Barrett was pinned by Orton. Barrett would be drafted to ECW. Following being drafted, he would disband from The Corre, although he and Cass shall remain friends. In following weeks of his debut on ECW, Barrett would gain wins over Tommy Dreamer and Curt Hawkins. After the draft had "closed" Barrett was announced to be a dual superstar with Smackdown!. After moving to ECW, Barrett would become European Champion. After winning the European title, Barrett would renew his feud with Ezekiel Jackson. At Bragging Rights, Barrett defeating Bobby Lashley.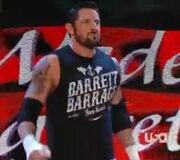 nWo,Smackdown and Pursuit of World Championships(2012-2013)Edit
In July 2012, Barrett was traded from Smackdown to Raw for Suicide On the Nitro Remembrance Night, Barrett turned heel joining Jacob Cass in the nWo. In August 2012, half of Barrett's contract was moved to Smackdown. After SummerSlam, Wade Barrett defeated The Rock for the World Heavyweight Championship and was later removed from the nWo, after Wade refused to hit the Wasteland to Justin Gabriel, turning Wade face, Wade was then fired from Raw and was forcefully moved to Smackdown. After the WWE Reboot, Barrett started a feud with Zack Blaze over the World Heavyweight Championship, losing it on the first Smackdown after the Reboot to Blaze. Barrett would then lose his rematch at Hell in a Cell. After months of feuding with Zack Blaze, Barrett received his rematch at Royal Rumble, against Blaze and AJ Styles, which Barrett lost. At the Elimination Chamber, Wade Barrett won the Elimination Chamber to become the number one contender for the WWE Championship at WrestleMania, which was revealed that he will face his former tag team partner, Jacob Cass. At WrestleMania, Barrett failed to defeat Cass and after the match, he attacked Cass, hitting him with a Bullhammer. After WrestleMania, Barrett vanished from television which was explained as Barrett needed to renew his visa. Barrett returned on Smackdown from London, in which he defeated William Regal. Following this, Barrett started a feud with The Miz over the World Heavyweight Championship at Dawn of Destiny. At the pay per view, Barrett failed to win the title, after The Miz pinned Zack Blaze.
Bad News Barrett (2014)
Edit
In late 2013, Barrett returned to television under the ring name Bad News Barrett, to which commentators ignored his past accomplishments during his "redebut match" against Zack Ryder. However, in following weeks they reaffirmed his past title runs during an in-ring promo. Over the following weeks, he would deliver bad news to various stars such as, being put into gimmick matches, or injuries, or make announcements for the RAW GM after he injured his arm. Barrett announced on his Twitter he would be competing in the Royal Rumble, and was awarded at number 17 spot.
On the RAW after WrestleMania XXX, Barrett defeated Damien Sandow to win the United States Championship, and the following WWE Main Event and Saturday Night Main Event, he fought Intercontinental Champion Roman Reigns, which both matches ended in a draw. Barrett later lost the United States Championship to Sami Zayn at Extreme Rules.
The following night on RAW, it was announced by General Manager Paul Heyman to be the new number one contender for the WWE Championship.