Bret Hart is a Canadian professional wrester signed to HCW.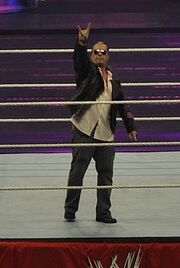 Bret would debut in HCW in October 2008 with DH Smith and Tyson Kidd as a heel in the The Hart Alliance they would have several low profile matches before Smith and Kidd were realeased, but Bret stayed mainly as a Manager and would eventually Turn Face as he would hit the Sharpshooter on Ric Flair.
Raw and Smackdown GM and departure (2011-2012)
Edit
Tyson and Smith would return to the company in March 2011 but without Bret, it is unknown if Bret will manage them again.This wont happen as the H.A has split. Several Months later, Bret Hart would return as Executive Assistant(Previously said bodyguard) of The Rock. Bret would make a return to the ring in late May 2011 defeating Chris Benoit and Chris Masters in a Handicap Submission Match. In 2012, Bret was named General Manager of Smackdown, as his first order of business, he fired Drew McIntyre after Drew lost to Justin Gabriel.Becoming Smackdown GM sparked a storyline feud between the shows over ratings and brand supremecy with a 12 person Tag team match with the winning team(Long or Hart) will choose a show to run(ex. Long could return to run Smackdown and give Hart Raw Supershow or choose to run both shows). Upon losing at Mania, Long instead made Hart Co-GM of Smackdown, and assigned Bret an assistant in the form of Assistant GM of Smackdown and United States Champion Santino Marella. However this storyline would be cut short as Hart would be released from his contract.
Return to Raw(2012)
Edit
WWE annoucned Hart will return to WWE under a one year deal and will return to the ring.