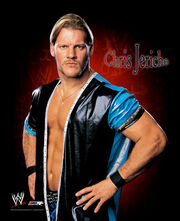 Debut. early championship pursuits and injury
Edit
Y2J debuted at the begining of JECW(now known as HCW) as a face and would go onto challenge Rocky Maivia(just as Chris Jericho did in 1999) and would go onto challenge for the JECW Extreme Championship but would fail. Next Y2J would attempt to get the JECW World Heavyweight Championship but would also fail and during a tag team match with Kurt Angle in late 2005 Y2J would suffer a torn Pectoral Muscle and injured his quadricaps and would be expected to be out for at least 4-6 months
Return, Face Turn,various feuds and departure.[1]EditEdit
Y2J would return in May 2006 and have short mini feuds with multiple people like Jim Logan(who at this time was going under Darth Starkiller) Mankind and Ric The Nature Man Flair. but his success would not last long as the company folded not a month after his return
Return of HCW, hiatus and HCW Immortal Champion.[2]EditEdit
After the return of JECW(now renamed HCW due to a lawsuit) Y2J returned about 2 weeks after the company returned to the Internet and would be broadcasted as a Face and would engage in a feud vs Randy Orton* and would have many battles with him over the next month until the feud ended with Randy tapping to the Walls Of Jericho. Y2J would then take a hiatus until late 2010 when he returned, he defeated Jeffro Hardy with a Code Breaker.During late 2010 he would start training two rookies Wade Barrett and Daniel Bryan, he would train them to become "Championship Quality" on HCW Inferno, this would last for a short time as Daniel would disobey Y2J and leave, and Wade Barret would become the only graduate as this storyline was shortly dropped thereafter.and in HCW's PPV Hell's Chamber Y2J would take Victor Creed Logan's place and win the Chamber and the HCW Immortal Championship.
Heel Turn, Face Run & Hiatus
Edit
On the Wednesday March 9,2011 Y2J turned Heel for the first time after his return after attacking Jim Logan after Jim had pinned him in a match.On the March 12,2011 edition of HCW Inferno Y2J would challenge anyone for the HCW Immortal Title and he would beat many local athleates even people from the crowd, but he would lose the world title to AJ Styles and the Immortal title would be renamed the HCW World Heavyweight Championship. Y2J would then vow to regain the world title.On the MArch 16,2011 Edition of HCW he would lose his rematch to AJ.
Y2J would then challenge for the now-defunt HCW State Heavyweight Championship(trying to become the final champion) but would lose to its creatior Rocky Maivia, Y2J would then show signs of a Face Turn teaming with Edge to beat Zack Ryder and Ezekial Jackson.
On the April 2,2011 edition of HCW Inferno Y2J would turn Face defending Kurt Angle from a beat down of the New Nex-Us and The Miz. He would later form a sort of alliance with Zack Blaze and Generation Next.During this time he would be drafted to SMackdown. After a short feud with Goldberg, Jericho would take a hiatus.
Second Coming(2012)
Edit
Jericho would return on the August 19,2011 edition of Smackdown defeating Intercontinential Champion Cody Rhodes for the title by countout. The next week it was announced Jericho's contract with WWE had expired
Jericho returned to WWE on January 2,2012 , although he didn,t speak, it was obvious he was a fan favorite as he got poured in cheers from the fans. Over follo
wing weeks he would not speak due to emotional problems. Jericho would compete in the Royal Rumble and fail due to being eliminated by eventual winner AJ Styles.One night later during the CM Punk/World Heavyweight Champion Daniel Bryan Main event, Jericho brefly turned heel attacking Punk. The following week, Jericho would drop the lights turning off before entering and the light-up jacket and return to his "The Best In The World At What I Do" gimmick.Jericho however turned face again and returned to entering with his light-up jacket, however he is still doing his "Best In The World At What He Does" gimmick and instead is in a friendly feud with WWE Champion CM Punk. Jericho would turn heel again, during a tag team match where he teamed with Punk against Daniel Bryan and Resurrected Kane, where Jericho turned on Punk, and left him against Bryan and Kane. At Mania, Jericho failed to defeat Punk. Jericho would be drafted to ECW, and would return to his attitude era gimmickJericho would turn into a fan-favorite once again and started a feud with Paul Hayman and HELL..Jericho's contract would be split between Raw and ECW. On his redebut on Raw, Jericho would defeat Dolph Ziggler.
Y2J Problem
Edit
In September 2012 Jericho returned to his Attitude Era Y2J gimmick, along with dropping the Codebreaker as a finisher and return to using the Lionsault. In his return match under his Y2J gimmick, Jericho defeated Rey Mysterio. Jericho would start a feud with Kofi Kingston over the Intercontinental Championship. After several failed attempts, Jericho would move into a feud with Chris Hero.