Sam Bealer is a wrestler and is signed to HCW and is competing as Hulk Hogan.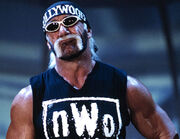 Debut and feud with HBKEdit
Hogan would debut in Mid 2010 as a Face with old Black nWo Attire and would fight many people like Y2J until March 2011 when HBK would turn on Hogan causing a feud between the two. He would defeat HBK at War of The Worlds ending the feud.
The Immortal Hollywood Hulk Hogan and Departure
Edit
Along with Immortal would invade WWE/TNA and form an Alliance with Nexus known by the fans as The Immortals Of the Nexus. With Hogan, Bischoff and Wade Barret as its leaders.After turning on Immortal, Hulk would take a Hiatus
ECW(2012)
Edit
After several months, Hogan would announce he would be competing on the ECW Revival Show as a Face. On his first appearince, he saved Kevin Nash and Stone Cold Steve Austin from an attack from Micheal Powers and the ECN.
WCW Revival (2014-Present)
Edit
It was announced on WWE.com that Hogan would return on the new WCW Revival brand.