Brandon Kepeer is a wrestler signed to HCW and is competing under the ring name Kaval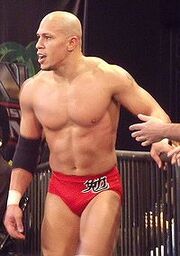 Kaval would debut in January 2010 as a tweener rookie competing on HCW Inferno mainly having an equal balance of wins and losses to the rookies, In August 2010 he would later get "mentors" in Divas/Knockouts of Michell McKool and Layla turning him Heel. He would later get a large winning streak until December 2010 when he suffered a losing streak. He would rarley wrestle afterwords and would return in Febuary 2011 as a Face still a rookie under LayKool until March when the divas/knockout divison was disbanded. Kaval has made rare appearnces since.
Kaval returned to WWE as a Raw Superstar and starting a feud with Dolph Ziggler. During his feud he would change his ring name to Kaval Low Ki before shorting it to Low Ki. At SummerMania Low Ki will get a shot at the United States Championship. At SummerMania, Kaval would fail as Vince would pin Kofi Kingston. Low Ki hadnt been seen since as his contract would expire.
Return and ECW(2012-Present)
Edit
After signing a 2 year deal with WWE, as he would compete on NXT and TNA as Kaval until he returned to Raw as Low Ki before he annoucned he would compete on ECW. He would be fired, after Big Show stole his ECW Title Briefcase and made him get fired