Ken Anderson, other ring names include; Mr Anderson or Mr Ken Kennedy Anderson or Mr. Kennedy.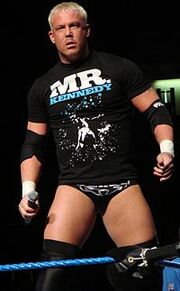 Debut and Face Turn
Edit
Anderson would debut as a Heel in January 2010 attacking everyone, trying to make a name for himself. Anderson would then win the HCW State Heavyweight Championship and hold onto it for a month and a half before losing it. Anderson would then show signs of a Face Turn attacking
Sting
and would complete his Face Turn winning the HCW Immortal Championship.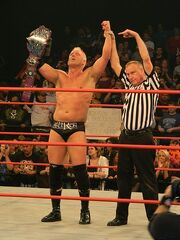 He would hold onto the gold until losing it to Kurt Angle. After losing the title he would stay Face. Currently he moved himself to HCW Inferno and is in a feud with Wade Barret.
Heel Turn
Edit
Anderson would then make a Heel Turn attacking Rob Van Dam and hitting a Mic Check to the ring post and would later join the alliance of Matt Morgan, Brock Lesnar and Booker T.At GloryMania, Mr.Anderson is going to face Rob Van Dam in an "I Quit Match". Anderson would lose in an "I Quit Match" to RVD, thanks to the help of the returning Tommy Dreamer. After 4 month hiatus, Anderson returned as a Face but would quickly make a heel turn turning on Kurt Angle in a tag team match. Anderson would then sign with Monday Night Raw and challenge Jim Logan to a match for the title but would be declined.Mr Anderson would show signs of a Face turn after losing to The Miz. Anderson would announce his contract had expired on an episode of Smackdown and in his final match, Anderson would defeat Matt Morgan
Anderson returned to WWE signing to ECW Revival as a face. Mr. Anderson also went back to being Mr. Kennedy. Kennedy was announced to challenge for the European title of Sin Cara. Due to being a former Money In The Bank winner, Kennedy would be placed in the Money In The Bank Ladder Match at WrestleMania 28. After Mania, Kennedy would be made a dual branded superstar with Smackdown and ECW.
At Battleground, Mr. Kennedy won the World Heavyweight Championship and turned heel, siding with Smackdown General Manager The Miz and the Administration of (Mr. Helmsly, Seth Rollins, Roman Reigns, Dean Ambrose, Ryback and Curtis Axel.) 
On the December 2, 2013 edition of RAW, Kennedy would lose the World title to Dean Ambrose in a triple threat match, also involving Dolph Ziggler.