Robert Alexander is a wrestler signed to HCW and is competing under Rob Van Dam or RVD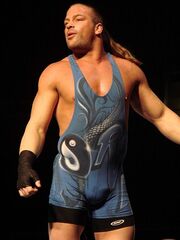 Debut, World Champ, Injury and return
Edit
RVD would debut as a Fan-Favorite on July 2010 defeating muitiple Heels and going on a year-long winning streak(never losing by Pin or Submission, he lost many times by DQ or Count-Out) winning the HCW World Title and holding onto hit for a short time before losing it. RVD would then suffer a small muscle tear leaving him sidelined for at least 3 months, RVD would then return in Febuary 2011 going on yet another winning streak. until he met Matt Hardy in March 2011 in a losing effort.
Feud with the New Nex-Us
Edit
In March 2011, RVD was attacked by Mr. Anderson and got hit with a Mic Check to the Ring Post. The next week he would return claiming he would get vengence, thus sparking a feud between RVD and Anderson. At SlammiMania 2011, RVD would defeat Anderson, making him say "I Quit".
TNA and feuds with Abyss and R-Truth. Smackdown and DepartureEdit
In the WWE Draft RVD would start a feud with Abyss which cumilated to which RVD defeated Abyss in an Ultimate X Match, directly afterword he would be attacked by TNA's newst superstar, R-Truth which sparked a feud between the two. They had their first match which Truth defeated Van Dam in a No-DQ match. After his feud with Truth ended with Truth moving to Raw, RVD moved to Smackdown. After moving to Smackdown RVD would start a friendly feud against Ezekiel Jackson for the Intercontinential Championship. After several losses, RVD would have a "Loser gets fired match" against R-Truth in which he lost.
Brand Switches and main event push(2012-Present)
Edit
Rob annoucned he would be working on ECW Revival as a face. In the second ECW, he would be attacked by the ECN. After several non-televised matches, RVD would return losing to Michael Powers. After a month and a half, RVD would return to television on Smackdown defeating Kane
In June 2013, WWE announced RVD had signed a contract extension, and would return in July. On July 8th this would be put into storyline with new GM of RAW Paul Heyman re-signing RVD to a contract. RVD would engage in critically acclaimed mini-feuds with Chris Jericho, Evan Bourne, and Ryback before his 60 day competition clause ended at SummerSlam. RVD returned competing against Bourne in a match and failing to win. The following week, on the October 18th edition of Smackdown, announcing himself as a member of Team Cass at Survivor Series, in which his team won. Following this, he would engage in high tier mid-card feuds with Alberto Del Rio and Sheamus until his 90 day competition clause ended.
Rob Van Dam returned once again at the Main Event after Payback in which RVD defeated Big Show.