Dolph Rons is a wreslter signed to HCW and is competing under The Great Khali(or is called Great Khali or just Khali)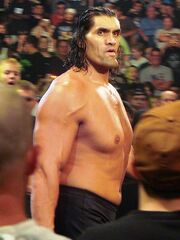 Khali was signed to HCW in January of 2011 and would make his debut as a Heel attacking The Big Show and would later have his first match against Zack Ryder which Khali won, he would later face Kane in March 2011 in a (Mini)PPV Match where Khali would suffer his first loss as Doph Ziggler would get involved turning Khali Face.
Smackdown temporary Heel Turn and various feuds and departure
Edit
Khali would later take a hiatus. During hte WWE Draft, khali would be drafted to Smackdown and would make a heel turn attacking his brother Ranjin. After 2 months of assualt from Jinder Mahal, Khali would turn on Mahal turning Khali face, after beating Mahal, Khali would be attacked by Mark Henry during a match against Heath Slater.
After a small feud with then-world champion Mark Henry, which Khali lost 2 - 1, Khali would be placed into a mini feud with intercontinental champion Cody Rhodes, which ended with Khali losing. After his small feud with Rhodes ended, Khali was attacked by Mark Henry again, and sidlining Khali with a Hall Of Pain(body splash onto ankle while the opponent's ankle is in between a chair). It was announced the following day, Khali had been released from his WWE contract.
Return to ECW and Various storylines
Edit
Khali would return from his injury at the Royal Rumble as a face and would be involved on the first ever ECW Revival Show. Khali would turn be heel, taking out Evan Bourne after the match. The following TNA,Ranjin Singh would return as his translater, Khali would claim that he only attacked Bourne to prove that he is still dominatnt. Khali would then start a feud with Bourne, losing to Bourne once by countout and winning against Bourne twice by submission using the Vice Grip. After WrestleMania, Khali competed on Smackdown in a Battle Royal to determine the number one contender for Daniel Bryan's World Heavyweight Championship, which he lost being last eliminated by Christian. His feud with Bourne ended in a submission match on the debut ROH show. During the WWE Draft, he formed a team with Lord Tensai forming "All Hail" to which they won the ECW Tag Team Championships, at Dawn of Destiny, however the following night, Triple H took the belts from them due to Tensai not having a formal contract with ECW.(while in reality, Punk Hazzard had suffered an injury before the match, causing an unfair advantage), It was annoucned at Bragging Rights, "All Hail" will get a rematch for the titles against 2.0. Which they failed.
After Al Hail disbanded, Khali started a partnership with Big Show, defeating a pair of jobbers. After the closure of the ECW brand, Khali would turn face, saving Evan Bourne from an attack from Lord Tensai.