Mark Calaway is a Wreslter signed to HCW and currently competes under
(The) Undertaker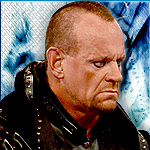 Debut and hiatus
Edit
The Undertaker would debut as a Tweener in March 2009 and would go onto have an undefeated streak. Taker would eventually get a manager Paul Bearer and would go onto win the HCW World title and hold onto it for 3 weeks before losing it to Rocky Maivia in a championship forefit match.Afterword Taker would take a hiatus or unexplained period of absense.
Taker would return in Feubary 2010 as a Face and would have a mini feud with Jim Logan which Taker would win.Taker would then take a short Hiatus until Camire Palaski Day where he would return with no Paul Bearer and would help a debuting Kane as the Brothers of Destrustion.Taker and Kane would see the return of Paul Bearer when Paul returned with the Urn of the undertaker with Paul saying "Without your Urn, you have lost power." setting up a storyline where Taker would dominate a Local Athleate on March 12,2011. and Seeing his brother Kane win the HCW State Heavyweight Championship.Taker would start a feud with Kane and Paul Bearer after Kane and Paul turned on him, Their feud would end as the HCW State title was deativated. Taker would then set his sights to HCW WrestleSlam in April and his challegner Batista. He would defeat Batista again at SlammiMania.
Smackdown and Feuds with HBK and Vladimir Kovslov and injuryEdit
HBK would challenge Taker to another rematch at SlammiMania but Taker would decline so HBK superkicked him and make a match at SummerMania where taker has another winning streak, HBK stated if he can beat Taker their rematch at SlammiMania would happen. He would later start a feud with Vladimir Koslov. At SummerMania 2011, The Undertaker will face The Miz with his streak on the line. At SummerMania, Undertaker once again defeated The Miz. Afterswords, it would be reported Taker suffered an injury, it was estimated he would be out for 3 to 6 months.
(Second) Return
Edit
Various Feuds
Edit
Undertaker returned Halloween Night, on Monday Night Raw SuperShow. Confronting Teddy Long about a World Heavyweigth Championship Match at Survivor Series, which was granted after Undertaker defeated Alberto Del Rio. After Survivor Series, The Undertaker would suffer an injury at the hands of Kane after a brutal attack. Undertaker would return yet again to challenge Triple H to an I Quit Match at WrestleMania 28, but would decline and instead made a challenge to fellow Phenom Sting who agreed to a No Holds Barred Match. At WrestleMania, Undertaker defeated Sting. In the WWE Draft, Taker was drafted to ECW Revival.However, Undertaker was moved back to Smackdown shortly afterword.
End of the Streak
Edit
Daniel Bryan Ended Undertaker's streak at WrestleMania XXX.